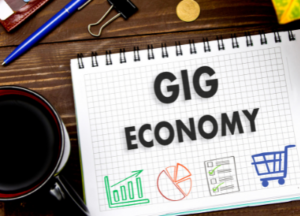 Since the start of the pandemic, the gig economy has become more ubiquitous. Human Resources leaders need to understand the new kind of worker attracted to the world of gigs, and learn how to make that kind of non-traditional worker fit into their teams.
Some mistakenly believe that the gig economy, also known as the shared economy, only refers to on-demand jobs like driving for Uber or Lyft or making Amazon deliveries. However, it is also applicable to white-collar jobs. It's becoming a solution for employees, who need more flexibility, and employers, who need talent during a historic labor shortage. The HR Exchange Network's State of HR Report revealed that HR leaders hold flexible work culture as a top priority, second only to employee engagement and experience. Buying into gig work might be a way to address both those priorities.
What Is the Gig Economy?
"The gig economy is a free market system in which temporary, flexible jobs are commonplace and companies bring on independent contractors and freelancers instead of full-time employees, and in many cases, for short-term engagements," according to Embroker.
A look at the numbers demonstrates how important it is for HR leaders to pay attention and get up to speed on how this new kind of work arrangement could influence their business. By 2023, the global gig economy is expected to be a $455 billion industry, according to Harvard Business Review. Two million new workers joined the U.S. freelance workforce in 2020. In fact, one in three working Americans rely on freelancing for all or part of their income. Gallup estimates roughly 57 million Americans are gig workers, according to Forbes.
"The rapidly accelerating growth of the gig economy represents one of the most significant and all-encompassing challenges faced by Human Resources professionals," according to SHRM. "The fundamental question is whether Human Resources can demonstrate the agility to lead the change in culture, programs, processes, and policies originally designed for work completed by full-time employees to a new era when more of the work is being completed by a talent portfolio increasingly represented by contingent workers (also referred to as gigsters, free agents, temporary help, agency workers, on-call workers, contract workers, independent contractors, or freelancers)."
Pros of the Gig Economy
Affordable Labor
A full-time employee requires a salary and benefits. You have to make hefty investments in training and career progression. Hiring an on-demand worker eliminates the need for all that. You pay them per project or on an hourly basis for as long as you need them. They usually can work remotely or only need to come into an office or place of business on a limited basis.
Specific Skills or Talents
Sometimes, you need an expert in an area for one or two projects and not on a regular basis. Being able to hire contract workers as you need them means you can look for exactly what you need at that moment. You don't necessarily have to worry about well-rounded skills like you might with a full-time hire.
Flexibility
Freelancers and on-demand hires offer flexibility. Even if you're renewing a contract with one of them on a regular basis, you only have to pay them for the work they actually do. You can turn to them when the work demands more help or when their particular service will enhance outcomes.
Cons of the Gig Economy
Carousel of Workers
Team dynamics can be hard to pin down when you are always working with different people. Even if you consistently work with the same freelancers, they are not bound by the same participation expectations as full-time workers. This can make it even more challenging to define a culture or help teams better collaborate.
Different Kind of Relationships
There's more of a hierarchy when you are working with full-time employees. Managers and supervisors oversee their work and usually provide some sort of performance measurements to track their progress. With freelancers, you are their client. They are still working for you, but it changes the dynamic of the relationship.
This becomes most complicated with contingent workers, who work consistently for a company but without job security or traditional benefits. They do this for a number of reasons, including having more freedom over their schedules, being able to work for others, and being their own boss. As a result, the contract dictates their work more than the manager does. However, the manager or company could end up being a dissatisfied customer, and contingent workers can be let go at any time and you don't have to prove they deserved to be fired.
Lack of Routine
If you're working with a blended team – full-time employees and freelancers or contingent workers – you might have a hard time creating a solid schedule or routine for the group. Potentially you could still get the job done, but full-time employees might feel inconvenienced or maybe even a bit resentful. They have to be in one place for a certain amount of time, whereas their freelance counterparts are free to work on their own clock.
Obviously, there are pros and cons to the gig economy. But HR leaders can't afford to ignore the fact that there is a societal shift toward this kind of workplace, where people have more freedom over their schedules, the kind of work they do, and even the relationship they have with employers. There's still so much we have to figure out when it comes to the gig economy.
"Online gig work has grown increasingly common in recent years – and yet there's still limited understanding of how to effectively support these non-traditional workers," according to Harvard Business Review. "While gig workers can benefit from greater flexibility and autonomy than traditional employees, they also face unique challenges: less job security, fewer resources for career development, and often, a strong sense of alienation and difficulty finding meaning in their work."
In fact, many reports have suggested that HR leaders in the future will provide access to resources regarding benefits like medical insurance instead of paying for it as they would for a full-time employee. Companies may begin to support co-working spaces to prevent isolation of their contingent or freelance workers. The point is that change is afoot, and HR leaders are paving the way for this new work paradigm.
By Francesca Di Meglio
Originally posted on HR Exchange Network