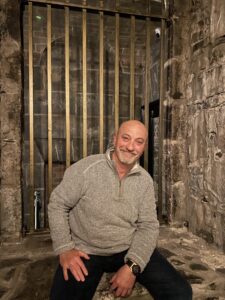 Author: Michael Mulqueeney, Vice President of Business Development, Johnson & Dugan
Back in 1989, when I was 29 years old, I went through a six-month period where I had a rapid onset of symptoms that impacted my ability to feel anything from my waist down to my toes.  My doctors eventually settled on three probable diagnoses: Multiple Sclerosis (MS), Amytrophic Lateral Sclerosis (ALS), or Epstein-Barr. These possible diagnoses rocked me.
Six months with no feeling from the waist down
I didn't know much about what was happening to my body. I wasn't a doctor or nurse, and this was long before I worked in employee benefits, which now gives me more insight into health and wellness. But I did have a close relationship with a family friend who had MS. She was retired and living a reasonably normal life, with what appeared to be little impact on her day-to-day activities. So, I thought, "Well, if it's MS, I can probably deal with that." But the idea of ALS freaked me out. I knew it wasn't good, so I kept my fingers crossed that I didn't have that.
During this 6-month period, I was numb from the waist down—hips to toes. I had zero feeling though I could still move around with significant effort. I was so stiff I could barely walk, and when I did, it felt like I was walking on stilts. Walking considerable distances was out of the question, which was really discerning, but I just pushed forward and hoped for the best.
I wasn't really in pain, so I didn't take medication. I was told that the medicine would "hopefully" relieve some of my symptoms, but it wasn't clear if it would improve the stiffness, and it wouldn't be a cure. So, I skipped the drugs and just made heavy lifestyle changes, mainly with my diet.
Fast forward six months later: I was driving a long commute in southern California between Huntington Beach and Tarzana when I noticed tingling in my legs. Two to three weeks later, I got all the feeling back, and my symptoms subsided.
Symptom-free for 10 years.  Was it MS or a misdiagnosis?
Ten years later, in 1999, I was still symptom-free but decided to have a new doctor review my medical history. He didn't think I had MS because he thought it would have presented itself again. He said my symptoms ten years prior could have stemmed from something else, such as a virus like Guillian-Barre syndrome. The doctor said to let him know if the symptoms ever came back. But they didn't. That is, until 2019.
30 years later: A concrete diagnosis—then the anxiety set in
Back in 1989, I'd only been given a "probable" diagnosis because my MRI scans were all clean. I had no signs of degeneration of the myelin on my spinal cord that you typically see with MS. While my spinal tap indicated that it could be MS, doctors said they needed to see another round of symptoms before providing a diagnosis. Three decades later, the doctors got just that.
So, we're talking about 30 years without symptoms when suddenly, I started having issues with my walking again. Things progressed rapidly from there, and I finally got concrete answers. Doctors confirmed that I had MS through an MRI I had completed in the Spring of 2020—just when we were entering the first stages of the pandemic. The medications and treatment options that my doctors suggested for me are the kind that shut down your immune system and restart it. That seemed very scary to me since having a healthy immune system seemed to be an advantage for those who contracted COVID.
Needless to say, I had a lot of anxiety about the treatments my doctors were suggesting. We didn't have the COVID-19 vaccine yet, and the thought of messing with my immune system made me uncomfortable. So, as in 1989, I decided not to do any medication and went hardcore on lifestyle and dietary improvements instead.
I firmly believe that solid nutrition, regular exercise, and consistent sleep are the primary foundations of good health. So, I changed the way I ate, opting for a Mediterranean diet, plus juicing with fresh, organic raw fruits and vegetables three times a day. I also started taking natural organic supplements and vitamins. I made sure they were highly vetted and from reliable sources—because my experience in employee health and wellness has taught me that many manufactured vitamins don't have the benefit that people think they do.
I also added stretching and yoga to my daily routine to help with my stiffness and mobility issues. These changes improved some of my symptoms, like my "foot drop," which prevented my left ankle from moving, causing it to drag while I walked. I seemed to be "treading water" after adapting my diet and lifestyle. I was feeling pretty good for about a year.
Revisiting MS medication options after the COVID-19 vaccine
 By 2021, I noticed I was getting worse again and going in a direction I didn't like. I was vaccinated against COVID-19 at this point, so I revisited the medication options with my neurologist. He said he was glad we didn't do Rituximab, the medication he'd initially recommended in 2020. It was an IV immunotherapy drug, and they had seen issues concerning the COVID virus. Instead, he recommended a different medication called Tysabri. I completed the testing and pre-work required to qualify for the treatment, but I was still nervous about it, and with good reason: I was told if I'd had something called the JC (John Cunningham) virus at any point in my lifetime, the medication could kill me. Well, that didn't give me much confidence about moving forward. I had been tested and cleared of the JC virus, but I was still feeling nervous, so I decided to pull the plug on starting that treatment too.
I was looking for hope that my MS symptoms could improve
Fast forward to 2022. I continued to get a little worse, and I wanted some hope. I think that was one of my biggest issues. I was looking for my doctors to give me hope that I could feel better. I woke up every morning feeling like my body had been a punching bag for a boxer. I'd stretch after getting out of bed to reduce soreness and stiffness and increase my mobility, but I wanted some hope that my symptoms could improve. I hadn't been getting that.
My doctors, as reputable as they were, could only tell me their goal with the medication was to prevent me from feeling worse or to slow the progression of the disease. That's why I didn't want to pursue the treatment. I wanted to feel better. I have followed people with MS who share their personal experiences using various strategies, whether medications or more natural means. A wide variety of things have worked for some but not for many.
Undeniably though, my symptoms were going downhill. So, I started doing my own intense research. I went into MS blogs and chatrooms to connect with people who'd been on MS medication and compared our symptoms. I discovered some hope out there. But unfortunately, the medications didn't work universally for everybody. It seemed hit or miss. Doctors were treating MS in many ways. They'd often start with one medication, and if that didn't work, they'd try another one, and then another, and so on.
Many people I talked to had been through that trial-and-error process, yet others had one medication in particular that moved the needle for them. One gentleman I spoke to had been in a wheelchair for MS and had dealt with symptoms for about 25 years. It had progressed much more rapidly for him than for me, but many of our symptoms were the same. He'd gone on the same drug (Tysabri) that my doctors wanted to prescribe me. Before the treatment, he could get from his wheelchair to the bed or a chair but couldn't walk well. He took the medication, and today he's running 10Ks. Now, that was kind of the hope I was looking for. I don't expect to be running 10Ks, but even if I could walk a 1K, that would be an improvement because I can't run at all right now, and walking is labored.
One of the symptoms I have is called MS hug. It's a tightness around the torso that feels like I just did 500 sit-ups. And it feels like that, 24 hours a day, seven days a week. It's hard to run when you feel like that. So, in hearing this guy's story, I got some hope and started thinking about what I could do.
Adios anxiety: the benefit of an expert second medical opinion  
In my occupation with Johnson and Dugan, we provide products and services for employers so they can offer employee benefits to take care of their people. I've spent much of my career in employee benefits—specifically, partially self-funded plans. I've worked with groups to add specific strategies and employee benefits to assist people, reduce claims, and improve health outcomes. That got me thinking about MORE Health.
I liked the idea of an expert second opinion. I'm in a closed HMO, though, so if I go outside the HMO, it comes out of my wallet. I saw that MORE Health has a way to bring in a benefit at a reasonable cost so that employers can give their employees an option for a second opinion. Now, I really started thinking about a second opinion. I wanted one for myself because, after all this time, I still felt unsure about what treatment option to try—if any. This experience also led me to question why most health plans don't offer coverage for second opinions. This is a problem in our healthcare system, I believe.  At a recent NextGen healthcare delivery strategy conference I attended, I learned that 1 in 20 adults in American are misdiagnosed every year.  Knowing this, it surprised me to dig in and discover that none of the major insurance carriers include a second opinion as a benefit of their coverage for a serious major illness!  This surprised me, especially when you look at the significant costs that come along with a misdiagnosis.  These costs may not involve money alone, it could mean ones life.
I had doubts about my treatment options for many reasons: I was concerned about how the medications interacted with the COVID-19 vaccines and boosters. My son—who eats a primarily vegetarian diet, does yoga, and is not a firm believer in Western Medicine—has not been a fan of me going the medication route. And given my line of work and what I've seen on the news about the pharmaceutical industry recently, I didn't know how much I could trust any of it.
I thought getting a second opinion from a leading specialist would be helpful. I wanted somebody to look over my shoulder and give me a thumb up, sideways, or down on what my doctors were proposing. So, I reached out to MORE Health.
They did most of the work and paired me with a leading specialist for MS who looked at my entire case. All my records were delivered virtually to that physician through their online technology, including my MRIs and CT scans. I could even provide a report from years prior. I still had my physician's assessment from 1989 in my files, which had data on the initial findings from my spinal tap and MRIs. Within five days, I got the final report. It came in the day before my first scheduled infusion therapy.
I'd prepared myself to pull the plug on the treatment that morning, but I didn't have to. I got a detailed report from MORE Health that reviewed all my medical records, their findings of my CT scans, MRIs, and blood work. The specialist they assigned to my case examined everything and commented on it. The report included a conclusion with the physician's recommendation that I go forward with infusion therapy (Tysabri) every six weeks, which is what my doctors at home had prescribed. The physician also wrote a caveat that if I didn't see results in a certain amount of time, they would recommend a second medication.
Before getting an expert opinion on my case, I was going through a lot of anxiety about doing the infusion therapy. After receiving the specialist's final report, I was very relaxed. I wasn't anxious at all as the report provided through the MORE Health second opinion relieved my apprehension about getting started on this immunotherapy treatment.
As I write this, I am less than 24 hours from my fourth infusion of Tysabri. So far, the physical difficulties I have experienced have remained in check, and my physical symptoms haven't gotten worse. My focus and productivity at work have improved. I hadn't considered those issues before treatment. I just struggled along and pushed myself to be productive—all while experiencing various leg pains and on-and-off discomfort that worsened as the day progressed. My doctors say that for some people, the benefits of the drug kick in right away, while for others, it takes 12 months, and for others still, it never works. I've always been a glass-half-full guy, though. It's not in my nature to be a pessimistic person. I've always looked forward and believed the future has yet to be created. We will have to wait and see how the treatment shows up for me, but as for the anxiety, adios!
About the Author
Michael Mulqueeney is the Vice President of Business Development with Johnson & Dugan Insurance Corporation, a UBA Partner Employee Benefits Advisory firm that has been in business in the San Francisco Bay Area for nearly 40 years. Mike was diagnosed with Remitting Relapsing MS in 2020. He lives in the hope of feeling better physically and maintaining his ability to play a round of golf—as hard as it may be for others to watch.
About MORE Health
MORE Health is a global digital health company known for giving individuals access to the best medical minds in the world when facing a serious illness or diagnosis. Recognized as a leader in cross-border telemedicine, MORE Health delivers virtual Expert Medical Opinions from world-leading specialists by pairing technology and world-class service. Offered as an employee benefit or on an individual self-pay basis, this service is available to groups of any size in the U.S. and abroad. Since 2013, MORE Health has helped patients on six continents and continues its mission to provide patient advocacy to clients and members worldwide—when they need it most.